Print Queue Manager
Turn any computer into a print server and manager.
Reduce paper use by managing print jobs.
Print Queue Manager 6 is coming!! Find out more...
Details

Category: Print Queue Manager
Published on Sunday, 25 September 2011 01:52
Hits: 5699
Do you manage a computer lab? A library computer network?
University department?  Internet Cafe?
Do you want to cut down on uncollected print jobs and paper?
Is wasted paper and toner costing you money?
Save money and the environment by reducing paper and ink usage through better print management.
This easy to use, but powerful, application gives you complete control over a printer queue allowing you to pause, delete and resume all documents. It can save you paper and ink or toner by giving you control over your print flow. The application runs at the user level so it complies with your corporate security policy for managing printers and documents making it suitable for customer service location such as internet cafes and libraries.
The power behind Print Queue Manager is the AutoQueue function which will turn the selected printer into a controlled print server queue.  Jobs will be stored until they are manually released individually or in bulk.  You have complete control over jobs and printers and you can delete unwanted jobs.  The AutoRelease feature allows you to set the program to print or delete all remaining jobs at a certain time of day and now, with Favourites, can even activate a queue at the scheduled time, if required. The program is also heavily configurable to suit your requirements.
Using a combination of API communication for control and WMI communication for reporting Print Queue Manager can help you control your print queue with job updates occurring live on the screen. ServerView provides the ability to monitor all jobs on a server and new logging provides an audit trail for your print jobs and users. All information is captured in a reportable Access database and standard reports are included.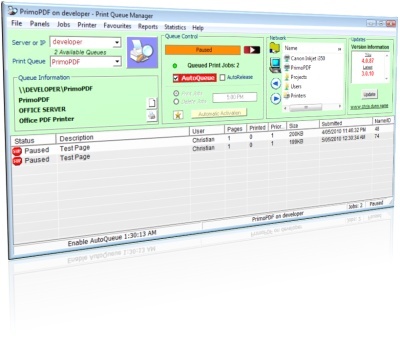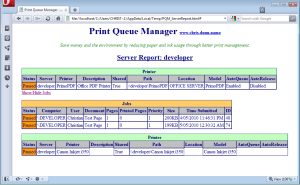 Print Queue Manager 5
A new live WMI interface to monitor your page savings,
manage multiple queues with ease and
log and audit your print jobs.
Did I mention it is still FREE?
No nag screens, advertisements or popups.
Although there are now plenty of good reasons to upgrade...
Additional features are for licenced

users.
Manage an unlimited number of print jobs

Remembers your settings between sessions
Remembers Print Server history
Pause, Resume and Delete Jobs
Live Job Updates

ServerView Feature

View status of all jobs on the current server

AutoQueue Feature

Automatically capture incoming jobs
Manually release jobs individually or together

AutoRelease Feature

Print or delete unprinted jobs on schedule
Print or delete unprinted jobs older than a specified time period

Print queue information

Test Page generation function
Print Queue Properties

Polling Indicator

show idle, job list update and high speed job release for Auto-Queue
Indicates WMI connection and query execution.

Update check

Automatic silent licence validation

Network explorer

View shared folders and printers for the selected server
View shared folders and printers for your computer

Advanced Configuration

Adjustable Job list Font size
Adjustable Polling Rates
User Exceptions to bypass Queue Manager
Printer Error Alert Popup
Simple View for non technical users

Dynamic HTML Reports

Printer and Server Reports
Today's Log Report
Full Log Report HTML, CSV or Email
Multiple Log Analysis Reports
Multiple Audit Analysis Reports
Configurable Report generation location and Command Line Report Generation for Intranet integration
Favourites Report

Statistics and Log files

Log all jobs on the connected server to a database
Add comments to log records
Option to Archive log on reset
Session, Total and Log print saving statistics
CSV Log File Export
Open Database in Access
Statistics Email generation with summary and CSV Log file
Configurable log database location including shared database locations

Configurable Feature Panels

Display only the features you need

Hide all features for a job list only view
Auto sizing panels for optimised display.
Hide Status Bar option

Favourites

Remember up to 20 print queues and their settings
Import and Export Favourites between machines
Automatic Activation Feature for AutoRelease if queue is inactive

Touchscreen friendly Quick Action job menu
Now includes Print Queue Manager Watch!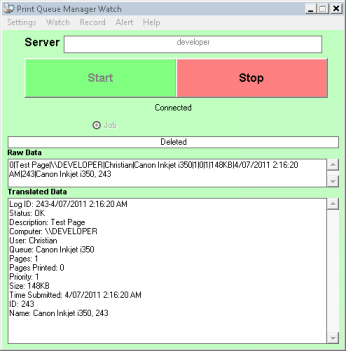 Hides to system tray
Can operate on a server to continually monitor jobs
Watch

Job updates occur in real time

Record

Live job updates to CSV
Live job updates to your PQM database (without needing PQM running)

Alert

Live job error notifications to a specified computer
Live job error notifications via email
---
Download
Manage Print Jobs and Queues
Platforms
XP/Vista/7/8
Licence
Freeware (Paid upgrade available)
Release
26/04/13 V5.2.0
Download

FILE:

PrintQueueSetup.exe (Full Installation) [4.39Mb]

Mirrors
Install Notes
Uninstall previous version first if before 5.1.1.
PreviousVersion

PrintQueueSetup_4_0_111.exe
---
Upgrade to
Purchase a licence for Print Queue Manager

in the shop to get access to all features. Buy a PRO Licence
---
Related/Recommended Programs
Do you need a printer pool?
Need to product multiple copies or route jobs to print and file?
Want to create triplicates or duplicates on different printers and paper?
Print Distributor is a third party program which allows you to print distribute, route and control printed output. This is achieved through virtual printer queues which can be configured to manage print jobs and direct them accordingly. Print Queue Manager can work on virtual print queues allowing you to manage a single queue but route approved jobs to print, print to multiple printers or save to file.
Find out more: http://www.frogmorecs.com/printdistributor
---
Reviews



Download

WorldSSP.net




Completely Free Software

 
 
---
Version History
1.0.0 (2000) This was built from random pieces of source code online in late 2000 as a simple way of viewing print queues.
2.0.0 (2001) Volunteering in IT at the UNSW Union in 2001 a requirement came to control the print access for the computer labs. The result of this was the AutoQueue function.
2.7.0 (March 2006) This was my first public release of the software as a free download.
2.7.15 (July 2007) The interface is now scalable allowing you to expand the program up to full screen. The application will now remember all your settings on exit including the window size and the options you have selected and it will reconnect and reload these on next launch, including AutoQueue and Timed Release Settings on the correct printer queue. I have updated the interface and added a splash screen as loading saved settings can take longer as the application needs to connect to the correct server and queue, but it will save you time as the application loads ready to use. You can restore the original settings with a new option in the file menu. I have added status icons to the job queue and you can click on a column heading to sort jobs by that detail. You can also reorder the columns of the job queue grid.
2.7.20 (July 2007) With the new space on the full screen mode I have added some new features providing an improved update process and a new server shared folder and printer window that is a handy companion tool. You can now check whether a new update is available without having to launch the website. To make these new features useful I have also created two default views; compact and full. Compact retains the existing interface while Full gives you twice the room to show off the new features. Updates is now no longer in the menus.
2.7.22 (July 2007) This is mainly a bug fixed. I fixed a problem with printer properties defaulting to first in list every time and then discovered an issue with them not working on remote printers. This has now been corrected. Printer Properties will show for current active print queue.
3.0.6 (September 2009) Improved Icon, Improved Look, Improved Software. User Guide.
3.0.10 (February 2010) Fixed Shortcuts, Updated for Windows 7, Installer
4.0.100 (May 2010) New configurable interface, 20 favourites, auto release automatic activation, licencing, Panels, options including polling rates, statistics and logging, fast queue switching for favourites, HTML Reports and much more. PRO version.
4.0.111 (December 2010) New menu options, removed links from reports for registered users. Updated Help Documentation. Fixed licencing issues.
5.0.10 (June 2011) Updated help documentation, new print job ServerView, new reporting customisations. Report updates, database driven log file which can be shared by multiple machines, improved logging engine, improved AutoQueue performance, updated Queue Control, updated Settings, new Reports, new Favourites Panel, performance improvements, updated statistics, online licence activation, computer search, updated interface, new user auditing. The WMI Job Monitor allows realtime job logging and live queue job notifications without requiring regular refreshes.
5.1.0 (July 2011) New Print Queue Manager Watch. Watch, Record or get an Alert for live job updates from the specified server. Standalone program for licenced PRO users.
5.1.3 (August 2011) Licencing update, improved help, one way WMI option.
5.1.4 (November 2011) Logging Issue fix for free unlicenced edition.
5.1.5 (January 2012) Fix Refresh issue for Favourites panel.
5.2.0 (April 2013) Added Aged Release feature. Updated interface. Fixed CSV export issues. Updated grid settings for international number formats.