MediaCentre
This is a very small player that uses Windows Media Player (WMP). Designed to be fast and efficient even on the slowest computer. Loads in seconds. This is simple, fast and featured.
Details

Category: MediaCentre
Published on Saturday, 29 October 2011 01:17

The Award Winning FREE MP3/WAV/PLS/M3U Media Player and Playlist Creator
Do you find that most media players, including Windows Media Player run incredibly slowly on your computer? This is often due to un-used and unnecessary features that also ran in the background. What if you there was a faster way to create playlists and play songs?
MediaCentre was written to resolve this problem by being fast and efficient yet having access to the latest WMP technology. Using only the players from Windows Media Player I can provide a simpler and faster program for managing and playing your playlists.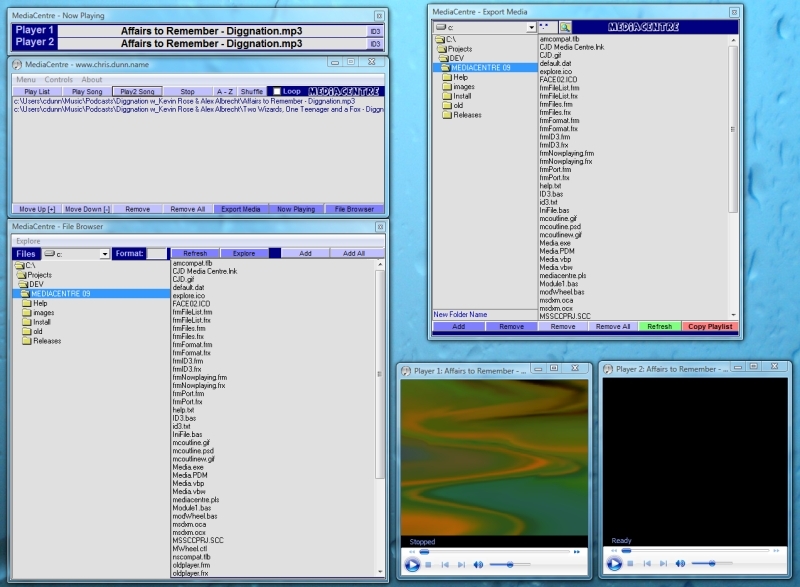 MediaCentre is a very small media player that uses any recent version of Windows Media Player (WMP9 or later) to provide dual players for playing created or imported playlists. You can export your playlists to use them in other programs including WMP or copy the songs to a drive or folder.
MediaCentre has been tested on XP, Vista and Windows 7!
MediaCentre is feature packed even though it is compact. You can drag and drop files onto the playlist, play individual songs, or two songs, watch videos, play playlists and more. All the features you need and nothing that you don't. As one reviewer said, "Basic, but brilliant...".
You can export your songlist as a playlist file or load the songs from your playlist onto a portable device (portable hard drive, USB drive or MP3 player) with one click. This way your original song files remain on your computer and you can erase or update your playlist easily. Simply choose the target drive and folder and press the red copy button and the files will be transferred.
MediaCentre can play every format that WMP does, including videos and will remember your playlist, settings and window sizes and locations. All components can be rearranged individually.
The original MediaCentre for Windows for computers with 2000 or XP without WMP9 is still available below.
The new installation wizard also includes a user guide which should appear in the start menu. Use the online check for updates to be notified of new versions or read my news.


Features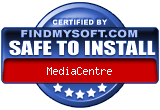 * Exports playlists to M3U, PLS and HTML playlists.
* Dual Media Players
* New interface with resizable console, file explorer, now playing bar, players and export media windows.
* ID3 Information for MP3 files.
* Improved song handling and controls including Shuffle and A-Z sort.
* Now playing window with song titles.
* Exports Media to any removable storage device with ease. Great with MP3 players or USB drives.
* Sequence exported media for use on older devices or generate playlists for newer devices.
Downloads
MediaCentreSetup.exe [2.58Mb] 1/03/10 V4.0.52
For Windows XP/Vista/7
Version History
V3.0.1 - Improved Help section.
V3.0.2 - Added Shuffle button (& help info)
V3.0.4 - Minor Update - Multiple changes
V3.5.1 - Major Update - Completely new platform. Feature Update.
V3.5.2 - Minor Update - Fixed minimise save error.
V3.5.6 - Major Bug Fix.
V4.0.50 - Major Update - Revised Interface, Updated Player Control, General Fixes
V4.0.51 - Minor Feature Update - Playlist Export Options, New Installer
V4.0.52 - Minor Update - M3U Import Fix
Reviews

aFreeGo.com

ReviewNow.com
NewFreeWare.com
Soft32.com
Softpile.com
WorldSSP.net
Completely Free Software
Freeware4PC.com
Softsland
Globalshareware.com
SharewareOrder.com
Maxxdownload.com
CleanSofts.com
FindMySoft.com