Details

Category: Time Is Money
Published on Saturday, 29 October 2011 00:42
Written by Christian Dunn

Time is Money (Windows)
New Payments with PayPal

FREE Time Management Rate Calculator
Feeling undervalued??

Is your valuable time being squandered with stupid questions?

Do people NOT know how much YOUR valuable time is worth?

Afraid you are being overcharged?

Ever wanted to charge your lawyer back for the 30 minutes he kept you on hold for that 8 minute call that cost you $80?

Want to make money and make people pay? instantly?
THE SOLUTION IS HERE...
Time is Money
Use it at HOME,
in the bedroom, the bathroom or the study,
even in the kitchen.
Show everyone how valuable YOUR time really is!
Take it to WORK,
use it in a meeting, use it in a presentation,
use it with your boss.
Put it on the projector or
show them from your laptop then
Send them a bill & collect.




Make them pay instantly online.



Visa, MasterCard or PayPal payments accepted.
Take control of your life NOW with Time is Money.
Don't believe me? Read the testimonials..

"My boss loved it so much after I used it on him that he used it to work out how much time my exit interview took and automatically deducted it from my payout."
'Retired' Admin Assistant, Barbados
---
Time is Money is also really good for people who actually need to run a business and want to be more accurate in charging for the correct time used with their customers when on the phone, in a meeting, completing paperwork, performing tasks or software development and even bill them immediately.
---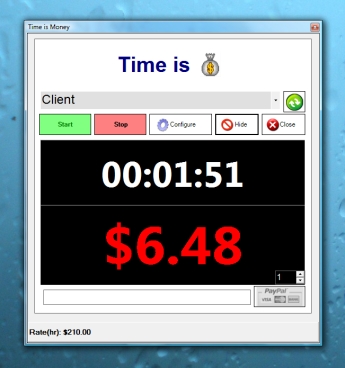 How much it cost you to read this page. The bill is in the mail.
Features
* Taxi cab meter style display with time and value calculation
* Rate calculate from hourly rate, and discount applied when the total is above a certain value
* A flagfall can be charged before or after discounting and multiplier are calculated
* Ability to select a rate on the fly and change it during capture without affecting the timer
* User configurable rates
* Log file capture of data selected and entered at the time the meter is stopped.
* Ability to capture comments with a time capture
* Large clear interface designed and tested on a touchscreen. Great for tablets.
* PayPal gateway integration for instant payments via Visa, MasterCard or PayPal.
* Online update check
* Review captured log information for each transaction.
* Log files can be exported to CSV for analysis.
* Configuration and Log files can be manually edited.
* Ability to bill at intervals (e.g. 15 minutes) with value charged at start of interval
* Ability to multiply rate e.g. multiple users or a group. A default multiplier can be applied to a rate, so group rates can be predefined. The multiplier rate is displayed on the main screen and can be updated against any rate during capture. The multiplier rate is applied prior to discounts.
This program is freeware.

Installation
Time Is Money is installed online and automatically checks for updates at startup ensuring you always have access to the latest features. Your settings are retained when the application updates. Time Is Money uses the Microsoft.Net 4 Framework and Windows Installer 4.5. If required these will be downloaded and installed when you setup the application.

Changes
V1.0.3518.18852 - New Time is Money
V1.1.3522.4079 - PayPal Integration and Update Check
V1.1.3522.24128 - Log File Viewer
V1.1.3522.38436 - Log File Feature Update
V1.1.3523.28747 - Rate options (multiplier and interval billing) & updated status bars
V1.1.3527.4080 - Bug Fix and Rate Calculation Update + User Guide
V1.1.3891.2956 - Pause Button
V1.2.0.1 - .Net 4 Framework, ClickOnce installation, Automatic Updates


Download
Time Billing Application
Platforms
Windows
Licence
Freeware
Release
 
Download

ClickOnce:

Install/Run
Mirrors
Notes

New .Net 4 ClickOnce Installation
Required Components Automatically Installed